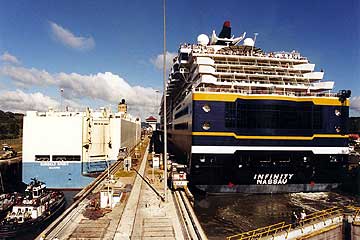 The Celebrity Infinity entering the Panama Canal
GTS Celebrity Infinity is a Centennial Class cruise ship owned and operated by Celebrity Cruises. She was launched in 2001 as Infinity, and renamed Celebrity Infinity in 2007. During the summer cruising season, she cruises Alaska, and during the winter cruising season, South America, including Chile, Argentina and Uruguay. On board it has several restaurants such as The Trellis, and SS United States. The ship also has indoor and outdoor swimming pools, and aqua spa, and a fitness center.
A member of our Centennial class of ships, Celebrity Infinity is steeped with prestige and elegance. Dressed in polished marble, warm woods and etched glass, Celebrity Infinity consistently makes a long-lasting, luxurious impression.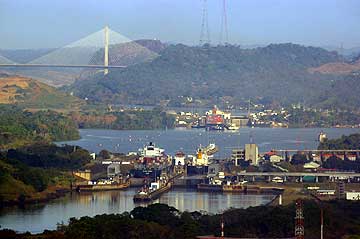 View of the Panama Canal from the Ancon Hill
The Celebrity Infinity
Occupancy: 2046
Tonnage: 91,000
Length: 965 ft
Beam: 105 ft
Draught: 26 ft
Cruisespeed: 24 kts
Inaugural Date: Mar 03, 2001
High above the sea on the Celebrity Infinity is the Conservatory, a flourishing, breathtaking garden featuring the exclusive collection of world-renowned floral designer, Emilio Robba.