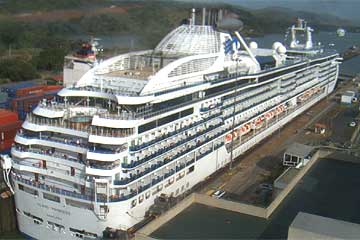 The Island Princess in the Miraflores Locks
The Island Princess is a cruise ship owned and operated by Princess Cruises line. The Island Princess and Coral Princess are the only two Panamax ships operated by Princess Cruises.
The Island Princess is seen here in the Miraflores Locks on Wednesday April 30 2008 on her Panama Canal Transit. Images from the Panama Canal Live Cameras.
Some of the Island Princess Destinations are: Alaska, the Caribbean, Mexico, Panama Canal and more.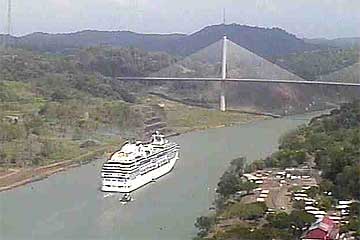 The Island Princess at the Centennial Bridge, Panama Canal
Island Princess is a fabulous floating resort designed to make your stay onboard truly memorable. This vessel has 90% ocean-view staterooms - with over 700 balconies and a wrap-around Promenade Deck. So, after being mesmerized by the scenery off the bow, get dazzled by the entertainment in the state-of-the-art lounges and a myriad of dining options.
Island Princess
Tonnage: 91,627
Passenger Capacity: 1,970
Registry: Bermuda
Length: 964'
Height: 204'
Beam: 122' (including bridge wing)
Draft: 26'
Maximum Speed: 24 knots