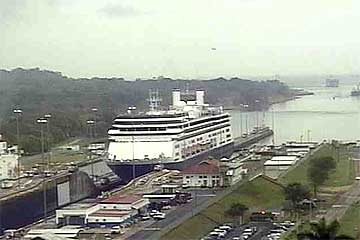 The MS-Amsterdam entering the Gatun Locks
The MS-Amsterdam is a cruise ship owned and operated by the Holland America Line.
The ms Amsterdam is the third ship to bear the name of the Dutch capital in Holland America Line's 135-year history. Built at the Fincantieri shipyard in Marghera, Italy, the ms Amsterdam blends the very latest in shipbuilding technology with the artistry, personalized touches and superior service that has made Holland America Line one of the highest-rated cruise lines in the world.
The ms Amsterdam cruises such popular destinations as Alaska, Asia, Australia, New Zealand and the South Pacific, South America and the Panama Canal.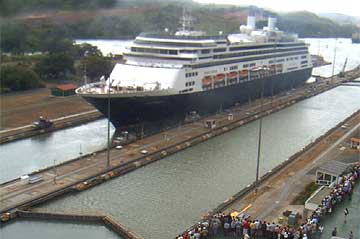 The MS-Amsterdam in the Miraflores Locks
The ms MS-Amsterdam
Ship's Registry: The Netherlands
Passenger capacity: 1,380
Crew members: 647
Gross tonnage: 61,000grt
Length: 780 feet
Beam: 105.8
Maximum speed: 22.5 knots
At the heart of the ms Amsterdam is the Planeto Astrolabium, a commissioned signature sculpture soaring in a three-story atrium. The stunning Astrolabe tracks constellations, the planets, world time and ship time. For a contemporary touch, works of the noted maritime artist Stephen Card adorn public spaces.