Video on Panama - Panama, officially the Republic of Panama (Spanish: República de Panamá; is the southernmost country of Central America. Situated on an isthmus, some categorize it as a transcontinental nation connecting the north and south part of America. It borders Costa Rica to the north-west, Colombia to the south-east, the Caribbean Sea to the north and the Pacific Ocean to the south. It is an international business center and is also a transit country.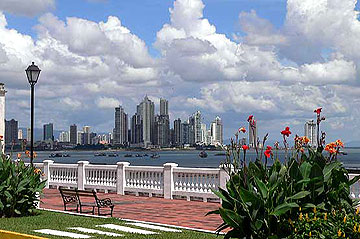 Panama City, View of the Modern City from El Casco Viejo
The Panama Canal
The Panama Canal is a man-made canal in Central America which joins the Pacific and Atlantic oceans. One of the largest and most difficult engineering projects ever undertaken, it had an enormous impact on shipping between the two oceans, replacing the long and treacherous route via the Drake Passage and Cape Horn at the southernmost tip of South America. A ship sailing from New York to San Francisco via the canal travels 9,500 km (6,000 miles), well under half the 22,500 km (14,000 mi) route around Cape Horn.