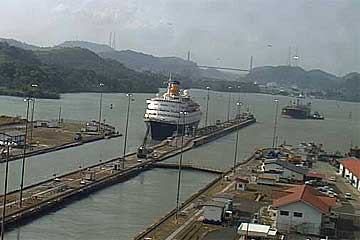 The MS Saga Ruby Cruise Ship entering the Miraflores Locks on its
South bound transit on January 23, 2010
The MS Saga Ruby is a cruise ship owned and operated by Saga Cruises. She was built as the combined ocean liner/cruise ship MS Vistafjord in 1973 by Swan Hunter Shipbuilders in the United Kingdom for the Norwegian America Line. In 1983 she was sold to Cunard Line, retaining her original name until 1999 when she was renamed MS Caronia. In 2004 she was sold to her current owners.
The MS Saga Ruby is shown here in the attached images on her South Bound Panama Canal transit on January 14th 2010.
Saga Ruby's furnishings give the ship an elegant yet contemporary feel. Her well-appointed public rooms and bars allow you to mingle with other passengers and relax whilst enjoying the varied entertainment available.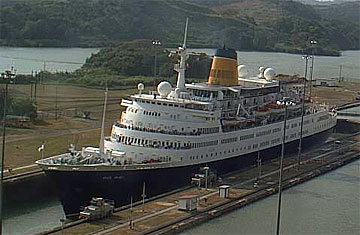 The MS Saga Ruby Cruise Ship in the Miraflores Locks - Panama Canal
The MS Saga Ruby
Tonnage: 24,292 GRT
Displacement: 5,954 metric tons deadweight (DWT)
Length: 191.09 m (626 ft 11 in)
Beam: 25.00 m (82 ft 0 in)
Draught: 8.20 m (26 ft 11 in)
Installed power: 2 × Sulzer 9RD68 diesels
combined 17,650 kW
Propulsion: 2 propellers[3]
Speed: 20 kn (37 km/h; 23 mph) service speed[3]
Capacity: 670 passengers (maximum)
General characteristics (after 2005 refit)
Tonnage: 24,492 GT (gross tonnage)[2]
Draught: 8.23 m (27 ft 0 in)
Decks: 9 (passenger accessible)
Capacity: 655 passengers (maximum)
Crew: 380