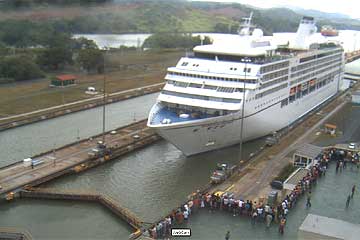 The Seven Seas Mariner entering The Miraflores Locks
The Seven Seas Mariner is a cruise ship for Regent Seven Seas Cruises (formerly Radisson Seven Seas Cruises).
Seven Seas Mariner is the world's first all-suite, all-balcony ship, as well as the first to offer dining by the famed Le Cordon Bleu® of Paris in Signatures, one of four single, open-seating restaurants. Catering to only 700 guests, she is one of the most spacious cruise ships afloat, and, her staff to guest ratio of 1 to 1.6 provides the highest level of personal service in the six-star tradition of Regent Seven Seas Cruises.
Some of the Seven Seas Mariner Destinations are: Alaska, Asia Pacific and Australia, Caribbean/Mexico, Panama Canal and World Cruises.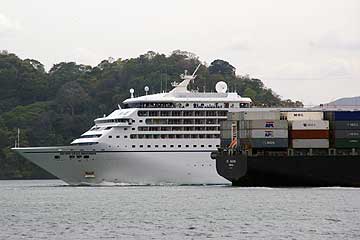 The Seven Seas Mariner leaving the Panama Canal
Here the luxurious Seven Seas Mariner can be seen on her cruise from Ft Lauderdale, FL to San Francisco, CA passing the Panama Canal southbound on Sunday, May 4, 2008.
Seven-Seas-Mariner
Entered Service: 2001
Tonnage: 50,000 gross tons
Length: 709 feet
Beam: 93 feet
Draft: 21 feet
Speed: 20 knots
Decks: 8
Complement: 700 passengers, 445 crew