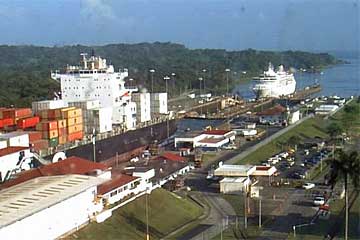 The Balmoral Cruise Ship approaching the Gatun Locks on January 22 2010
Balmoral is a cruise ship owned and operated by Fred. Olsen Cruise Lines. She was built in 1988 by the Meyer Werft shipyard in Papenburg, West Germany as Crown Odyssey for Royal Cruise Line. In 2007–2008 she was lengthened by 30 m (98 ft) at the Blohm + Voss shipyard in Hamburg, prior to entering service with her current operator.
Here the Balmoral is shown on her South Bound Panama Canal Transit on January 22 2010.
Carrying 1350 passengers (Standard Occupancy) the Balmoral offers 710 elegant comfortable cabins, world-class cuisine and diverse onboard activities.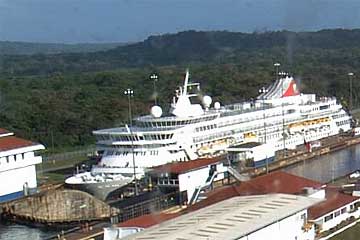 The Balmoral Cruise Ship in the Gatun Locks - Panama Canal
The Balmoral
Tonnage: 34,242 GRT
Displacement: 5,186 metric tons deadweight (DWT)
Length: 187.71 m (615 ft 10 in)
Beam: 28.21 m (92 ft 7 in)
Draught: 6.80 m (22 ft 4 in)
Installed power: 4×MaK 8M601/6M35 diesels
Propulsion: 2 propellers[3]
Speed: 22.5 knots (41.67 km/h; 25.89 mph)
Capacity: 1,230 passengers (maximum)
General characteristics (as rebuilt, 2007)[3]
Tonnage: 43,537 GT (gross tonnage)[4]
Length: 217.91 m (714 ft 11 in)[1]
Draught: 7.25 m (23 ft 9 in)[1]
Decks: 10 (passenger accessible)
Capacity: 1,778 passengers
Crew: 471