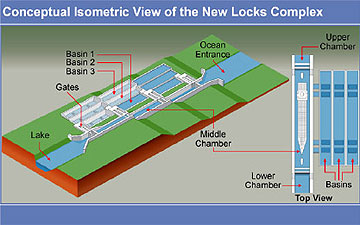 Conceptual view of the new Panama Canal Locks
Panama Canal Expansion Info:
The Third Set of Locks Project is a mega project that will expand the Panama Canal. The expansion will be greater than at any time since the canal's construction. The Panama Canal Authority proposed the project after years of study. Panamanian President Martín Torrijos presented the plan on April 24, 2006 and Panamanian citizens approved it in a national referendum by 76.8% of votes on October 22, 2006. The project will double the canal's capacity and allow more traffic.
You can find much more Information about the Panama Canal Expansion Project right here on the Official Panama Canal Website Pancanal.com.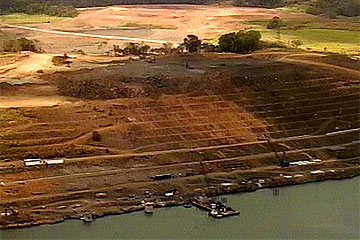 From the Live View Cams of the Panama Canal Expansion
Panama Canal Expansion Info
The program consists in the construction of two new sets of locks - one on the Pacific and one on the Atlantic side of the Canal. Each lock will have three chambers and each chamber will have three water reutilization basins.

The program also entails the widening and deepening of existing navigational channels in Gatun Lake and the deepening of Culebra Cut.

In order to open a new 6.1 km-long access channel to connect the Pacific locks and the Culebra Cut, five dry excavation projects will be executed.