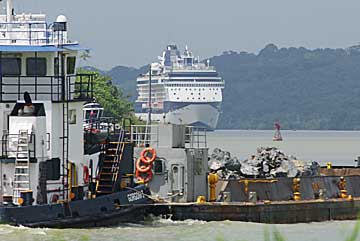 The Celebrity Cruise Constellation near Gamboa in the Panama Canal
From stem to stern and on every one of her 11 decks, she radiates the elegance and ambience one would find in a grand hotel. Celebrity Constellation, the newest of the Millennium-class ships, boasts outstanding amenities, accommodations and services, all presented with the utmost taste and the inimitable Celebrity style. When you cruise on Celebrity's Constellation you are sure to desire everything and want for nothing.
Video of the The Celebrity Constellation Cruise Ship in the Panama Canal at Youtube.
In the pictures shown here you see the Celebrity Constellation in her Panama Canal Transit on November 27, 2009, here seen passing the area of Gamboa around noon time.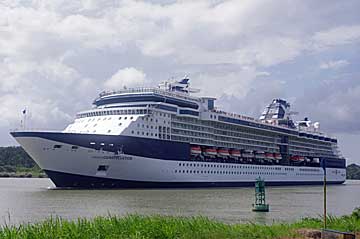 View of the Celebrity Constellation Cruise Ship in the Panama Canal
The Celebrity Constellation
Class and type: Millennium Class cruise ship
Tonnage: 91,000 gross tons
Length: 964.6 ft (294 m)
Beam: 105.6 ft (32 m)
Draft: 26.3 ft (8 m)
Decks: 13
Speed: 24-knot (44 km/h)
Capacity: 1,950 passengers
Crew: 999
GTS Celebrity Constellation is a Millennium class cruise ship of Celebrity Cruises. She is the co-flagship of the Celebrity fleet, along with Century-class ship Century. She was originally named Constellation, but renamed in May 2007.Her three sister ships are the Celebrity Infinity, Summit, and Millennium.