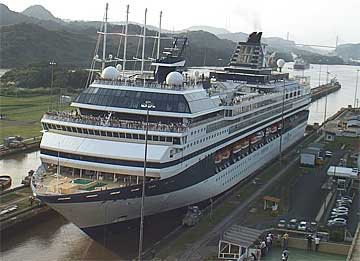 The Celebrity Mercury Cruise Ship in the Panama Canal
For those who may wonder if there's life on Celebrity Mercury, we're here to tell you that there most definitely is. The newest of the Century-class of ships, Celebrity Mercury is equally as impressive, and not just in terms of visual appeal, but also in the vast array of world-class amenities and services that she offers.
In the summer of 2006, just prior to the Mercury's planned departure for an Alaska cruise, Seattle-based inspectors from the U.S. Coast Guard arrested the captain of the Mercury for intoxication. Celebrity Cruises arranged for a replacement, and fired the original captain.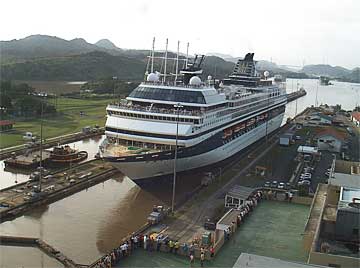 View of the Celebrity Mercury Cruise Ship in the Panama Canal Locks
The Celebrity Mercury
Occupancy: 1,886
Tonnage: 77,713
Length: 866 ft
Beam: 105.6 ft
Draught: 25.5 ft
Cruise Speed: 21.5 kts
Inaugural Date: Nov 02, 1997
MV Celebrity Mercury is a Century class cruise ship owned and operated by Celebrity Cruises. She was built in 1997 as MV Mercury by the Meyer Werft shipyard in Papenburg, Germany.