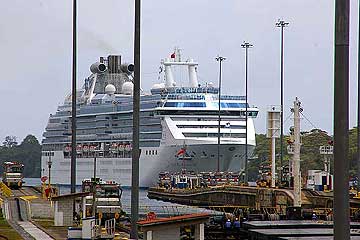 The Coral Princess entering The Gatun Locks
The Coral Princess is a cruise ship owned and operated by Princess Cruises line. The vessel, along with sister ship Island Princess, was launched in 2003. The Coral Princess and Island Princess are the only two Panamax ships operated by Princess Cruises.
The Coral Princess is seen here doing a partial Panama Canal transit entering the Canal from the Atlantic side from Colon, passing the Gatun Locks system and the Gatun Lake and then back out to the Atlantic again.
Some of the Coral Princess Destinations are: Alaska, the Caribbean, Mexico, Panama Canal and more.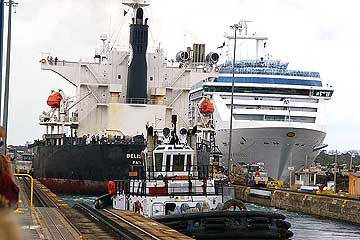 Panama Canal - Heavy traffic at the Gatun Locks
Ushering in a new era in design, this exciting ship is one of cruising's most advanced passenger vessels. Coral Princess offers the same vast array of public room space as Princess' renowned larger ships but, in a twist, spread over two decks and with fewer passengers aboard and offering the most staterooms with balconies in the Princess fleet.
Coral Princess
Tonnage: 88,000
Passenger Capacity: 1,970
Registry: Bermuda
Length: 964'
Height: 204'
Beam: 122' (including bridge wing)
Draft: 26'
Maximum Speed: 24 knots