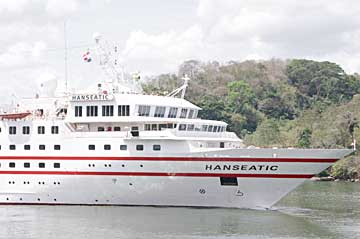 The MS Hanseatic Cruise Ship on her North bound
Panama Canal transit on April 14, 2010
MS Hanseatic (previously Society Adventurer) is a five-star cruise ship owned by the Hapag-Lloyd cruise line. It is the only five-star expedition-cruise ship worldwide. Built in 1991, she specialises in trips to the Antarctic. She was built as Society Adventurer, but was renamed when she was purchased by Hanseatic Tours, as the fourth in a line of Hanseatics. In 1997, Hapag-Lloyd purchased Hanseatic Tours, and she passed into their ownership.
Routes:
2010: South and Central America, Caribbean, US East Coast, Canada, Arctic, Northwest Passage, Kamchatka, Asia, South Seas, Indonesia, Papua New Guinea, Pacific crossing
2011: Antarctic, South America, Amazon, Atlantic crossing
2012: Antarctic, South Sea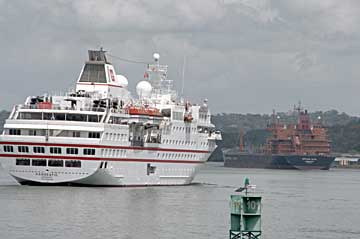 The MS Hanseatic Cruise Ship near Gamboa - Panama Canal
The MS Hanseatic
Passenger Capacity 184
Gross Tonnage 8,378
Crew members 125
Cruising Speed 16 knots
Length 403'
Beam 59'
Former Name: Society Adventurer 1991
The MS Hanseatic is shown here in the attached images on her North Bound Panama Canal transit on April 14th 2010.