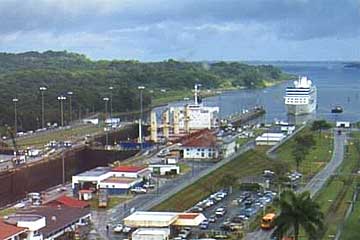 The Azamara Journey Cruise Ship entering the Gatun Locks from the Caribbean
Azamara Journey is an R-class cruise ship owned and operated by Azamara Cruises, a sub-brand of Celebrity Cruises.
Discover a comfortably sophisticated, upscale cruise experience aboard Azamara Cruise's enchanting new ship, Azamara Journey. With only 694 guests, Azamara Journey offers a cruise experience in a deluxe, intimate environment.
The attached images show the Azamara Journey cruise ship in her south bound Panama Canal Transit on December the 23rd of 2009 on her journey from from Miami to San Diego calling on Port Antonio, Cartagena, Panama Canal, Puntarenas, San Juan del Sur, Huatulco, Acapulco, and Cabo San Lucas with 7 days at sea.

The Azamara Journey Cruise Ship in the Panama Canal
The Azamara Journey
Class and type: R-class cruise ship
Tonnage: 30,277 GT (gross tonnage)
Length: 181.00 metres (593.8 ft)
Beam: 25.46 metres (83.5 ft)
Depth: 5.80 metres (19.0 ft)
Decks: 11
Speed: 18 knots (33 km/h; 21 mph)
Capacity: 694 passengers
Crew: 407
Features include internet, a martini bar, a casino, pool, and shopping. There is a traditional one-story dining room, Discoveries, as well as a lido deck buffet restaurant. The ship also features two specialty restaurants, Aqualina and Prime C.