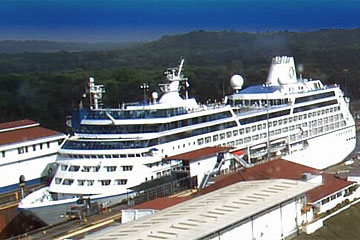 The MS Regatta Cruise Ship in the Panama Canal - Gatun Locks
The MS Regatta is an R class cruise ship, owned and operated by Oceania Cruises. She was built in 1998 by the Chantiers de l'Atlantique shipyard in St. Nazaire, France for Renaissance Cruises as MS R Two. Between 2002 and 2003 she sailed as MS Insignia before receiving her current name. The interiors of the Regatta are decorated in art deco style similar to the ocean liners of the 1920s and 30s with polished dark wood and warm colours, described by Douglas Ward, author of the Complete Guide to Cruising and Cruise Ships, as being "stunning and elegant".
The attached images show the MS Regatta on her South Bound Panama Canal Transit on January 19 2010 on her cruise from Miami to Los Angeles.
For more details and to see the MS Regatta Live Onboard Camera and her current itinerary, please see this page here at the Oceania Cruises Website.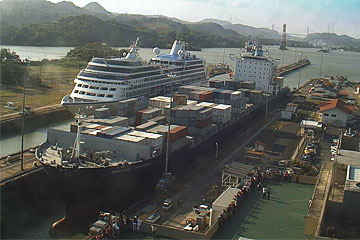 The MS Regatta Cruise Ship in the Miraflores Panama Canal Locks
The MS Regatta
Class and type: R class cruise ship
Tonnage: 30,277 GRT
Displacement: 2,700 DWT
Length: 181.00 m (593 ft 10 in)
Beam: 25.46 m (83 ft 6 in)
Draught: 5.80 m (19 ft)
Decks: 9 (passenger accessible)
Installed power: 4 × Wärtsilä 12V32 diesels
combined 13500 kW
Propulsion: 2 propellers
Speed: 18 kn (33.34 km/h)
Capacity: 684 passengers (lower berths)
824 passengers (all berths)
Crew: 386