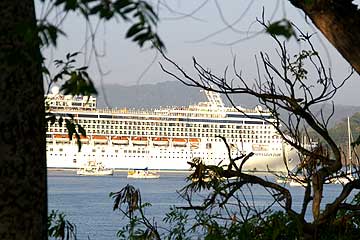 The Norwegian Jade approaching the Panama Canal
The Norwegian Jade is a cruise ship for Norwegian Cruise Line, originally built as the Pride of Hawaii for their NCL America division. This Panamax form-factor ship was built at Meyer Werft Shipyard, in Papenburg, Germany, and registers at just over 93,500 gross tons.
The Norwegian Jade has 10 international restaurants, plus 10 bars and lounges so you can dine and drink where, when and with whom you choose. Add to that the most innovative accommodations on the high seas, and you'll see there's no limit to the Freestyle choices for fun and relaxation aboard Norwegian Jade.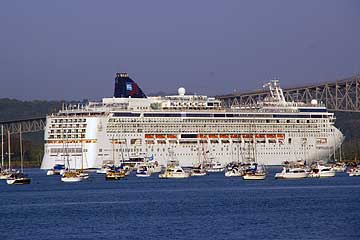 The Norwegian Jade starting the Panama Canal transit
The Norwegian Jade
Tonnage: 93,558 gross tons
Length: 965 ft (294 m)
Beam: 106 ft (32 m)
Draft: 27 ft (8 m)
Decks: 15
Capacity: 2,224 passengers
Crew: 1,100
Norwegian Jade has a similar exterior appearance to NCL's Libra Class ships, the Norwegian Star, which entered service in 2001, and the Norwegian Dawn, which entered service in 2002. The interior design and amenities, however, are significantly different and merit Norwegian Jade having a Jewel Class designation.