The Pacific Princess entering The Miraflores Locks on January 7th 2010
The Pacific Princess is a cruise ship owned and operated by Princess Cruises line. The vessel, along with sister ship Coral Princess, was launched in 2003. The Coral Princess and Island Princess are the only two Panamax ships operated by Princess Cruises.
The Pacific Princess is seen here on January 7th 2010 doing a Panama Canal transit entering the Canal from the Pacific side from Panama City, passing the Miraflores Locks system and the Gatun Lake and then back out trough the Gatun Locks to the Atlantic.
Some of the Pacific Princess Destinations are: Alaska, the Caribbean, Mexico, Panama Canal and more. Link to the Princess Cruises Online Live Cams.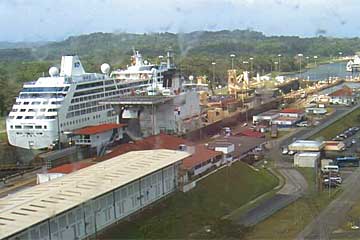 Pacific Princess Panama Canal - Heavy traffic at the Gatun Locks
The Pacific Princess
Class and type: R class cruise ship
Tonnage: 30,277 GRT
Displacement: 2,700 DWT
Length: 181.00 m (593 ft 10 in)
Beam: 25.46 m (83 ft 6 in)
Draught: 5.80 m (19 ft)
Decks: 9 (passenger accessible)[2]
Installed power: 4 × Wärtsilä 12V32 diesels
combined 13500 kW
Propulsion: 2 propellers[2]
Speed: 18 kn (33.34 km/h)
Capacity: 688 passengers (lower berths)
826 passengers (all berths)[2]
Crew: 373[2]