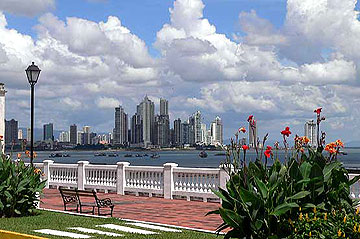 View of modern Panama City from the old part of the town
Panama City Tours

Modern Panama City is a metropolis in which its tall and modern buildings, its wonderful department stores, its incredible mansions, hotels and casinos will take your breath away.
By night-time Panama City is full of energy and excitement, with unlimited options to having a good time. Whether it's a cultural night at the Theater or a night visiting restaurants, bars and clubs, you're going to have a great time.
Source: IPAT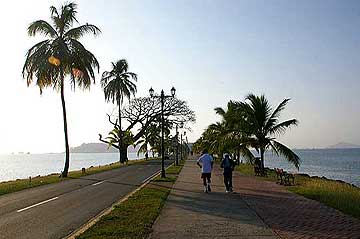 Enjoy in the evening breeze along the Panama Canal
At only a ten minutes drive from the center of Panama City, the Parque Natural Metropolitano is the most accessible tropical forest in the world. The park offers great opportunities to observe a diversity of animals and plants. The Metropolitan National Park is a tropical rainforest in which we can find over 200 species of wildlife. Related Link: Parque Metroplolitano
Ask your travel agent for the many tours available. Here is a list of travel agents that offer tours in Panama.
Here you find some Photos from Panama and here other Nature Photos with many of them from Panama.