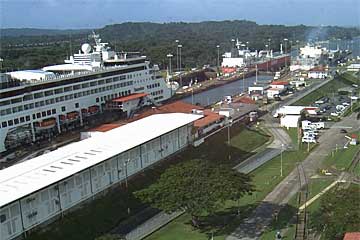 The ms Statendam Cruise Ship in the Miraflores Locks on its
South bound transit on December 28th 2009
The Statendam is a cruise ship owned and operated by the Holland America Line. The attached images show The ms Statendam in her Panama Canal passage, north bound, from the Pacific to the Atlantic, on December the 7th 2009.
The MS Statendam is a cruise ship of the Holland America Line. She entered service in 1993. Cruising from the west coast of the United States, with Australia and New Zealand as the common destination in winter and Alaska in summer, she is the fifth Holland America ship to bear the name Statendam.
The ms Statendam travels the stunning natural beauty Alaska's Inside Passage and Glacier Bay. Explores the Caribbean, transit the Panama Canal or cruise Mexico.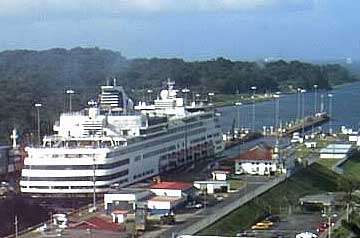 The Statendam Cruise Ship leaving the Panama Canal to the Caribbean
The MS Statendam
Class and type: S class cruise ship
Tonnage: 55,451 gross tons
Length: 720 ft (219.5 m)
Beam: 101 ft (30.8 m)
Decks: 12
Speed: 22-knot (41 km/h)
Capacity: 1,258 passengers
Crew: 557
See the ms Statendam Deck Plan here and tour some of the other facilities in these videos here.